Twitch Plays Pokémon Red Version is the first game in the history of Twitch Plays Pokémon. It started February 12, 2014 and ended March 1, 2014. The stream finished after 16 days, 7 hours, 45 minutes and 30 seconds.
none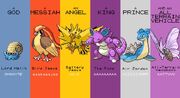 Inside the PC
Edit
Nidoran♂
ABB-??AAJ (Zubat)
BKKBBBBCBB (Venonat)
DROWZEE (The Keeper)
Inside the Daycare
Edit
GASTLY (Rick Gastly)
Spearow
JLVWNNOOOO (Jay Leno)
ABBBBBBK( (Abby)
FLAREON (False Prophet)
CCC (C3KO)
x (X-wing)
A (Venonat)
B-!) (Venonat)
AIA (Exeggcute)
AAA (Paras)
Venonat
Nidoran♂
x(araggbaj (Cabbage, Seed of Hope)
DUX (Slayer of Trees)
Geodude
H (Nidoran♂)
AAEWWW (Nidoran♂)
AAJST(???? (Digrat)
AEWWWWV (Rhyhorn)
Zubat
a (Nidoran♂)
Characters
Edit
Secret Key
Card Key (PC)
HM04 Strength (PC)
TM17 Submission
HM01 Cut (PC)
Moon Stone (PC)
S.S. Ticket (PC)
Silph Scope (PC)
Super Rod (PC)
Town Map (PC)
Lift Key (PC)
HM03 Surf (PC)
Poké Flute (PC)
Pending...
External Links
Edit
http://www.twitch.tv/twitchplayspokemon
https://sites.google.com/site/twitchplayspokemonstatus/
http://www.reddit.com/r/twitchplayspokemon
Ad blocker interference detected!
Wikia is a free-to-use site that makes money from advertising. We have a modified experience for viewers using ad blockers

Wikia is not accessible if you've made further modifications. Remove the custom ad blocker rule(s) and the page will load as expected.