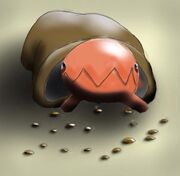 Trapinch
was
Aooooo's
starter. She knows Hammer Arm, Focus Punch, Trump Card and Natural Gift. Her ability is anger point. She is impish and loves to eat. Her nickname is a reference to the trumpets of Hoenn.
Evolution
Edit
Trumpinch, needing to become stronger after the release of Kenya, evolved and became a Vibrava. Some say Lord Amber gave Trupminch this power.
Ad blocker interference detected!
Wikia is a free-to-use site that makes money from advertising. We have a modified experience for viewers using ad blockers

Wikia is not accessible if you've made further modifications. Remove the custom ad blocker rule(s) and the page will load as expected.