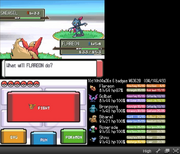 On Day 10 of
Platinum
, the game's chat-to-game of Snowpoint City while Sun Prophet was about to face off against Sneasel.  It was a female, level 33 Sneasel. During this time, the game switched to stadium's sound, and we were able to listen to the announcer. Poor Flareon probably got cold during this period of time... Later, Stadium got stuck as well in the middle of a battle Between Pidgey and Clefairy. The game soon went back to Platinum sound, and many were dissapointed because they liked listening to the announcer in Stadium. Both games soon fixed themselves and Flareon wiped out Sneasel in one fire blast. 
Sneasle the Prophet
Edit
Sneasel was the prophet of Claw.  He was trying to create a never ending silence.  He was killed by the Sun Prophet though and was later replaced as prophet by Xatu, the Oracle.
Ad blocker interference detected!
Wikia is a free-to-use site that makes money from advertising. We have a modified experience for viewers using ad blockers

Wikia is not accessible if you've made further modifications. Remove the custom ad blocker rule(s) and the page will load as expected.