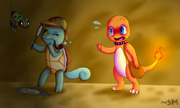 Pokémon Mystery Dungeon: Blue Rescue Team
 was played while waiting for
Platinum
. The main character was Squrtle and the partner was Charmander. The Squirtle and Charmander adventure was the story of Abby and Shellock as kids.  
The road to Black
Edit
It was played again inbetween HeartGold and Black. The hero was Cuboner the Cubone. The others on the team were Abby the Charmander and Wattson the Magnamite.
Ad blocker interference detected!
Wikia is a free-to-use site that makes money from advertising. We have a modified experience for viewers using ad blockers

Wikia is not accessible if you've made further modifications. Remove the custom ad blocker rule(s) and the page will load as expected.