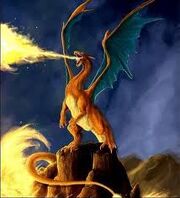 Lord Amber
is the deity of the Old Amber religion.  He was revived from the Old Amber in
FireRed
. He saw potential in Swablu, and gave it the power to evolve. He is balanced between Helix and Dome and gets along well with both of them. He seeks to unite the two gods. He is an Aerodactile, but also has a Charizard form.
In Season 3, Lord Amber is revived by Evan, the Anniversary Crystal host shortly after the release of Lord Helix's AC Incarnation, Queen Helix.
Teachings
Edit
The Amber party is neutral between Helix and Dome.
Treat others with respect and kindness.
Guide the children of voices, do not challenge them.
Ad blocker interference detected!
Wikia is a free-to-use site that makes money from advertising. We have a modified experience for viewers using ad blockers

Wikia is not accessible if you've made further modifications. Remove the custom ad blocker rule(s) and the page will load as expected.